Aloha Junction B&B
19-4037 Old Volcano Road
Volcano Village
Volcano, HI 96785
808-967-7289
1-888-967-7286
1-808-967-7912
Price Range: $100 - $140

Did you know that the Hawaii Volcanoes National Park is the #1 destination spot in Hawaii? The ALoha Junction B&B in Volcano is just outside the Hawaii Volcanoes National Park in Volcano Village. Our closeness and easy-to-find location enables you to enjoy night hikes to see actvitiy inside Halemaumau Crater and return to a quiet, comfortable and restful night's sleep within minutes. (Hilo is about 30 miles from the Park and Kona is about a 2 1/2 hour drive.) We have paved the way for you! including the private road and parking lot. The inside of the property is spacious as the outside. It's fenced and gated for an extra measure of security. Innkeepers live in the house next door, so you'll receive personalized service the minute you drive through the gate. (You'll be given a mini-remote so that you can open and close the gate yourself.) Everyone is welcome ~ from marathoners to Merrie Monarch hula dancers, bird watchers to cyclists, our Bed and Breakfast accommodations will give you a unique and memorable travel experience with a touch of local flavor.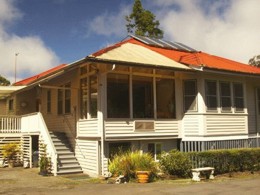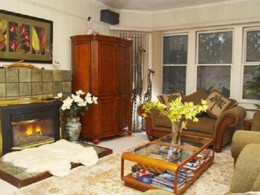 Accommodations
The Aloha Junction B&B was formerly a vacation get-away for workers at the sugar plantations back in 1930. In keeping with that era, it has been lovingly remodelled to turn all of the bedrooms into "suites". Each room has a locking, private entrance, WIFI connectivity, and cable TV. All guests are invited to use the kitchen and living room to relax or microwave some popcorn, hot chocolate or tea for an evening snack. Three of the rooms have French doors opening up to a huge covered lanai that eventually winds up at the garden Jacuzzi. And each of those rooms have kitchenettes with coffee makers, microwave ovens and mini refrigerators. Those same thee rooms have different bed arrangements. The Pele's Suite has a King/Queen bed combination. The Alpine Room has a double/double bed combination. The Garden Suite has a queen/queen bed combination. Amenities in a nutshell: Jacuzzi, sauna, over-stuffed furniture in the living room, huge koa dining room table, robes, kitchenettes, delicious hot, breakfast, hand-held/mounted shower heads. The rate for all rooms is $100/night double occupancy + 12.41% tax. (and just $20 per addditional guest)
Breakfast
Guests report that breakfast is the best part of coming here! You will hear soft Hawaiian music playing in the background while the fireplace warming up the air. Many guests will take pictures trying to capture the moment of the table setting, but nothing can reduplicate Robert¿s banana-macadamia-nut pancakes or farm-=fresh fried eggs served with sausage patties or links. Be ready for freshly brewed hot coffee and juice around 8 AM, and then get ready to dig into your papaya boat filled with bananas and freshly squeezed lemon after that. Nobody goes away hungry! If you¿re on a special diet restriction, please let us know ahead of time so that we can best serve you.
Dining
Choosing which restaurant to select in Volcano is fun. The Keawe Kitchen is the closest. It uses wood to stoke up its brick oven which produces some of the best tasting pizzas, breads, and pastas you'll ever find. If you're in the mood for some local-style cooking, go to the The Lava Rock Cafe about a block away. And on the same black there is the Kilauea Lodge, known for its fine European food. If you're in the mood for Thai food, you can't find any better than at the Thai-Thai Restaurant - the Mai-Tai's can't be beat! Try one or try them all, they are all unique and good.
Local Attractions
Without a doubt, most visitors come to see the volcanic activity inside National Park. We are just 2 miles from viewing molten lava at the Hawaii Volcanoes Park Headquarters.