Adair Country Inn
80 Guider Lane
Bethlehem, NH 03574
603-444-2600
888-444-2600
603-444-4823
Price Range: $160 - $375

Down a long drive bordered by rock walls, tall pines, and white birch stands an elegant Georgian Colonial inn, called Adair. This peaceful country home sits atop a knoll, surrounded by sweeping lawns, ponds, perennial gardens, and 200 acres of woods. This private setting affords breath-taking views of the Presidential Range, including Mt. Washington. Adair serves as an intimate, romantic retreat for adults who wish to unwind and who expect exacting attention to detail, personal service, fine food, comfortably appointed guest rooms, and a relaxed ambiance. A spacious living room with comfortable seating areas and wood-burning fireplace, a large activity room with massive granite walls, slate floors, fireplace, billiards table, large-screen TV, and puzzles, and a large patio provide guests with ample opportunity to stretch out and to relax. An inn since 1992, Adair has received AAA's four diamond award twelve consecutive years. Adair is a member of Select Registry, Distinguished Inns of North America.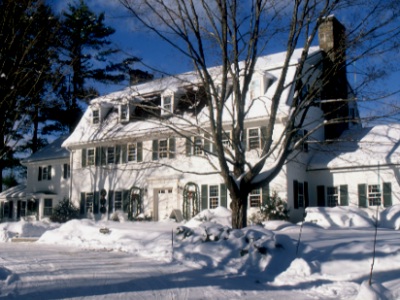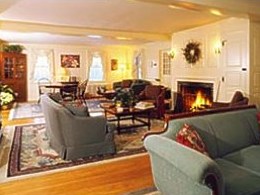 Accommodations
Nine comfortably appointed guest rooms are housed in the inn. Named after a White Mountain, each is unique in terms of decor, layout, furnishings, and views. Common to each are a comfortable bed (king or queen) with triple sheeting, a private, white-tiled bath with tub and shower, antiques, reproductions, original art, air conditioning, and a lengthy list of amenities, including CD players, hair dryers, and fleece robes. There are four room types, progressing in size and amenities. All rooms have wonderful views of gardens and woods and most have mountain views. Seven have Vt.cast stove fireplaces. The three deluxe rooms have newly refurbished and expanded bathrooms with romantic tubs for two. Our deluxe suite has a walk-out balcony with views of two nearby mountain ranges.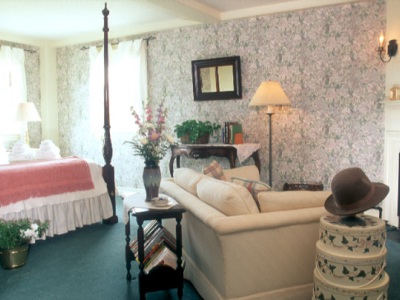 Breakfast
Breakfasts at Adair are flavorful, artfully presented, and substantial. Coffee and tea are set out at 7AM for early risers. A full breakfast is served at individual tables, starting at 8:30AM. In addition to a self-serve beverages, cold buffet of granola, yogurt, bananas, fruit juices, milk, and iced water, breakfast consists of a medley of fresh fruit, a basket of steaming hot popovers, and a hot entree. While the large, golden-brown popovers, served with strawberry preserves and whipped butter, are the house specialty, Judy's entrees receive high praise for both presentation and flavor. Herbs, vegetables, and flowers grown at Adair are used regularly in summer. Local Bethlehem maple syrup is served year-round. The recipes most frequently requested by guests are for Judy's popovers, pumpkin pie pancakes, apple claflouti, eggs dijonaise, and lemon chiffon pancakes. In the summer months, as weather permits, guests can enjoy breakfast outdoors on the patio.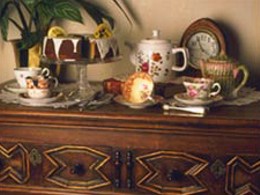 Dining
Fine dining is available seasonally at Adair. Operated under separate management, Tim-hir Alley serves arguably the finest food in the North Country. Located in the inn's intimate dining room and run by chef, Tim Carr, and maitre d', Biruta Carr, the restaurant is also open to the public. While the menu changes weekly depending on the freshest ingredients, the cuisine is new American with southwest and southeast Asian accents. Start the meal with tempting appetizers like grilled eggplant with warm feta and sweet red pepper-basil marmalade or pork and peanut potstickers with plum-ginger barbeque sauce. Entrees like tournedoes of beef on horseradish mashed potatoes with bacon and cabernet-thyme sauce are artfu11y presented and come with six vegetable sides. Save room for Tim's decadent desserts like chocolate-hazelnut pate with strawberry puree or apple-caramel cheesecake with caramelized cranberry sauce. Beer and wine are available with dinner. They prefer to be paid by cash, check, or traveler's cheques.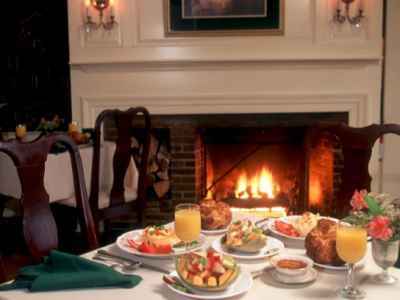 Local Attractions
Located 10 miles south of the inn is Franconia Notch State Park. Concentrated within a mile are numerous attractions both natural and man-made.Natural wonders like The Flume, an 800 ft gorge and nature walk, The Basin, a massive pothole formed by glaciers, and Echo Lake, a small recreationa1 lake for swimming, canoeing, and fishing. This area is a hiker's paradise with mini-hikes like Artist's Bluff to challenging ascents like Mt. Lafayette. An 8 mile paved path is available for both walkers and mountain bikers. For those less physically inclined, an aerial tramway transports visitors to the top of Cannon Mt.during the summer and fall seasons.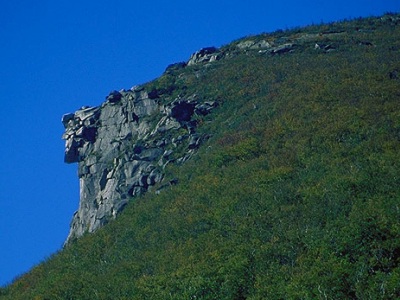 Of Special Interest
The landscaping surrounding Adair was originally designed by the Olmsted Brothers in the late '20's. While time and the harsh climate have taken their toll, the "bones" remain as does the centerpiece, the rear gated garden with its elegant iron-filagreed gates. These beautiful gates welcome passers-by in all seasons. Under the stewardship of the current innkeepers, work on the original stonework and perennial gardens is again a priority and continues to expand annually. While it's "work in progress", the landscaping is regaining its past luster.