The Mercersburg Inn
405 South Main Street
Mercersburg, PA 17236
717-328-5231
1-866-MBURG-01
717-328-3403
Price Range: $140 - $395

The Mercersburg Inn offers a most extraordinary Pennsylvania bed and breakfast experience. Enjoy the magnificent surroundings of a turn-of-the-century 22,000 sq. ft Georgian mansion with 17 guest rooms, while feeling as comfortable and relaxed as you would in your own home. Stroll the expanse of our 5.5 landscaped acres. In the summer relax with a cool beverage and enjoy the summer breeze on our large covered open air porch. In the winter get cozy with a glass of wine in our Tile room by the fire. Take a liesurely walk down the streets of historic Mercersburg where if you pass someone on the street you are more likely than not to hear a pleasant hello from a passerby. Enjoy a romantic candlelight dinner in our on premise fine dining restaurant. Then slip off in the evening to our beautiful rooms and have the sleep of your life on our famously comfortable featherbeds. Awaken to the aroma of breakfast being prepared for you in our kitchen.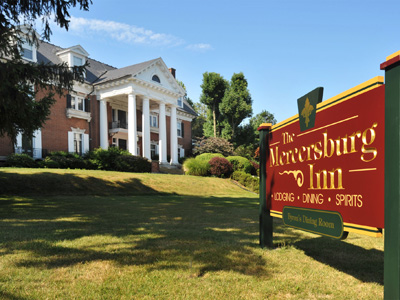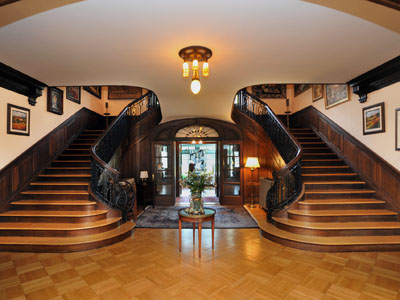 Accommodations
All of our rooms have private baths with plush robes and extremely soft English bath towels. Several of the rooms have fireplaces and outdoor porches, most have four-poster queen or king beds. All beds have featherbeds and Egytpian cotton linens. All of our pillows and comforters are luxurious down. The Inn is totaly air-conditioned. On the main floor we have a breakfast dining room, a room filled with windows and morning light. Byron's dining room's formal wood paneled dining room is also located on the main floor. In addition our Tile room witha mahogony bar and fireplace and our Great room filled with places to sit and relax is also on the main floor. Our game room located in the lower level with a pool table, air hockey and a guest PC. Our Carriage house, located 150 feet from the main house has 2 newer guest rooms. The Inn offers complimetary high speed cable internet access.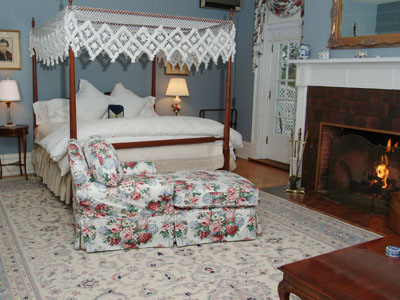 Breakfast
A three course served breakfast is prepared served every morning by the innkeeper. You can start with a cup of our "freshly ground by the pot" coffee or a variety of teas. Our homemade granola is also a favorite of our guests. We will then serve you a chilled glass of juice and either a fresh fruit cup or plate. Next up is our homemade baked goods. Our baker has been at the Inn for 15 years and her coffee cakes and muffins are always an item in demand at breakfast. Our entree's include Goat Cheese Tarts made here at the Inn, various quiches, eggs benedict and a French Bread custard entree. All entrees are served with fresh county bacon or sausage. All of our eggs are fresh from a local farm.
Dining
Chef Dan Nowalk and Byron's Dining Room, our fine dining restauarant are charter members of the Pennsylvania CUlinary Society. Dinner is served Thursdays thru Sunday's. Our menu changes with the seasons. In the summmer, all of our herbs and tomatoes come from our garden. All of our dishes are cook-to-order. Chef Nowalk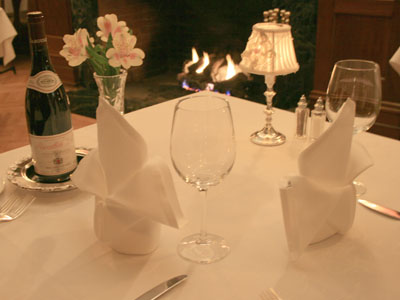 Local Attractions
Grand Ole Opry, Mercersburg. Cowans Gap State Park - sandy beach on a crystal clear mountain lake. Hagerstown Suns - affliate of the Washington Capitols. Summer Theater (June-Dec) at The Totem Pole Playhouse. Berkley Springs State Prk - Natural springs Spa, Whitetail Ski, Whitetail Golf, Luhr's Center for the Performing Arts-Shippensburg University.
Of Special Interest
French Cooking Classes, Wine Tasting and Wine Dinners, Imago Relationship Couples Weekends, Weddings, Elopements, Vow Renewals, Spa Packages, Golf Packages, Ski Packages