The Inn on Crescent Lake
1261 St. Louis Avenue
Excelsior Springs, MO 64024
816.630.6745
866.630.LAKE
Price Range: $120 - $250

Welcome to the Inn on Crescent Lake, located in historic Excelsior Springs. Only 30 miles from downtown Kansas City and Kansas City International Airport, the Inn is perfectly situated for a romantic weekend getaway or is the perfect spot for an elegant wedding or corporate retreat. During your stay, enjoy the paddleboats, rowboat, fishing, swimming pool, outdoor seven-person hot tub, gas fire pit, spa services, and walking path. Visit the world's longest mineral springs water bar. Play golf at the Excelsior Spring championship golf course. Antique shop in Olde Towne. The Arrowhead & Kauffman stadiums, Country Club Plaza, and City Market are just 30 minutes away.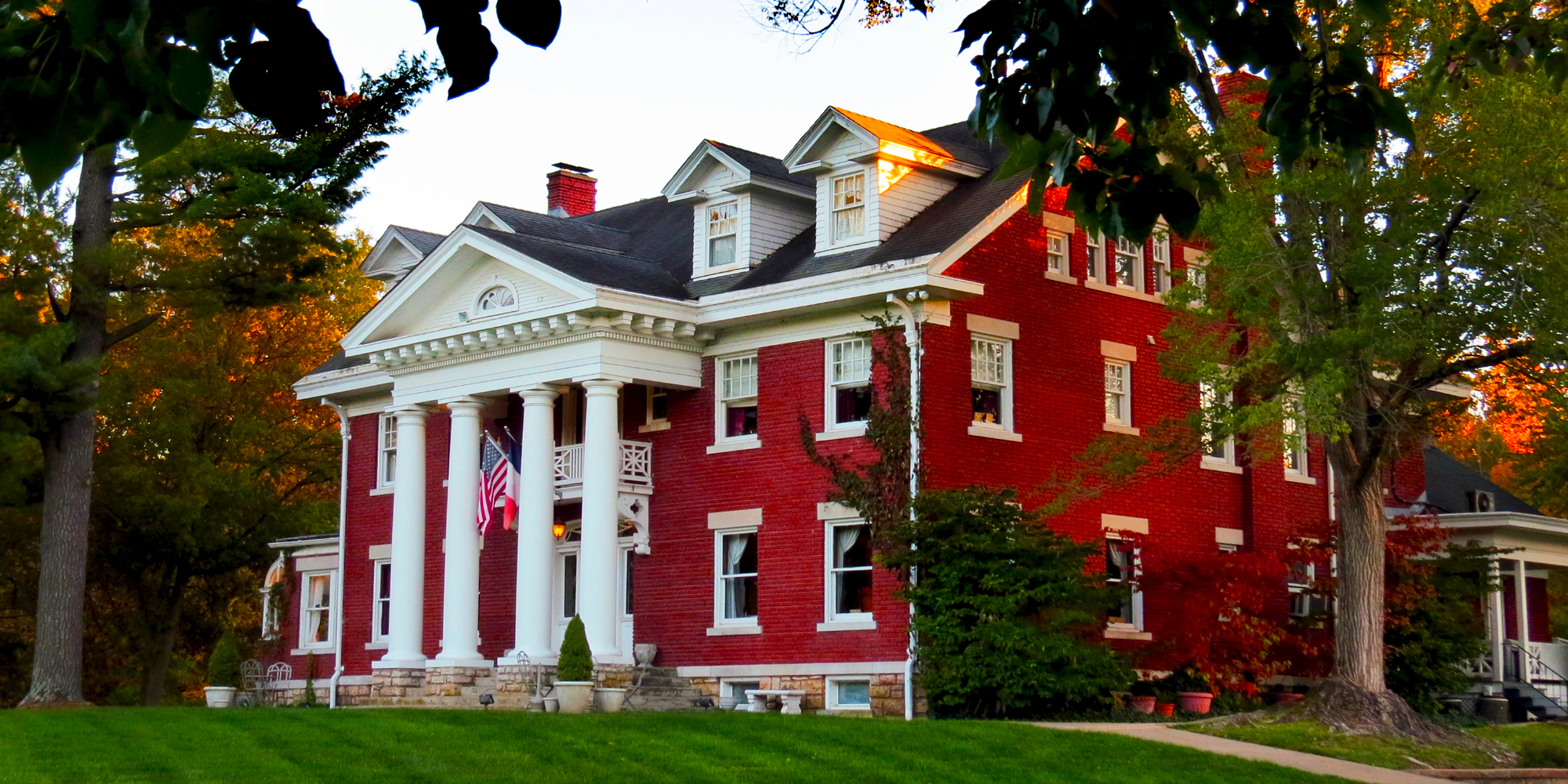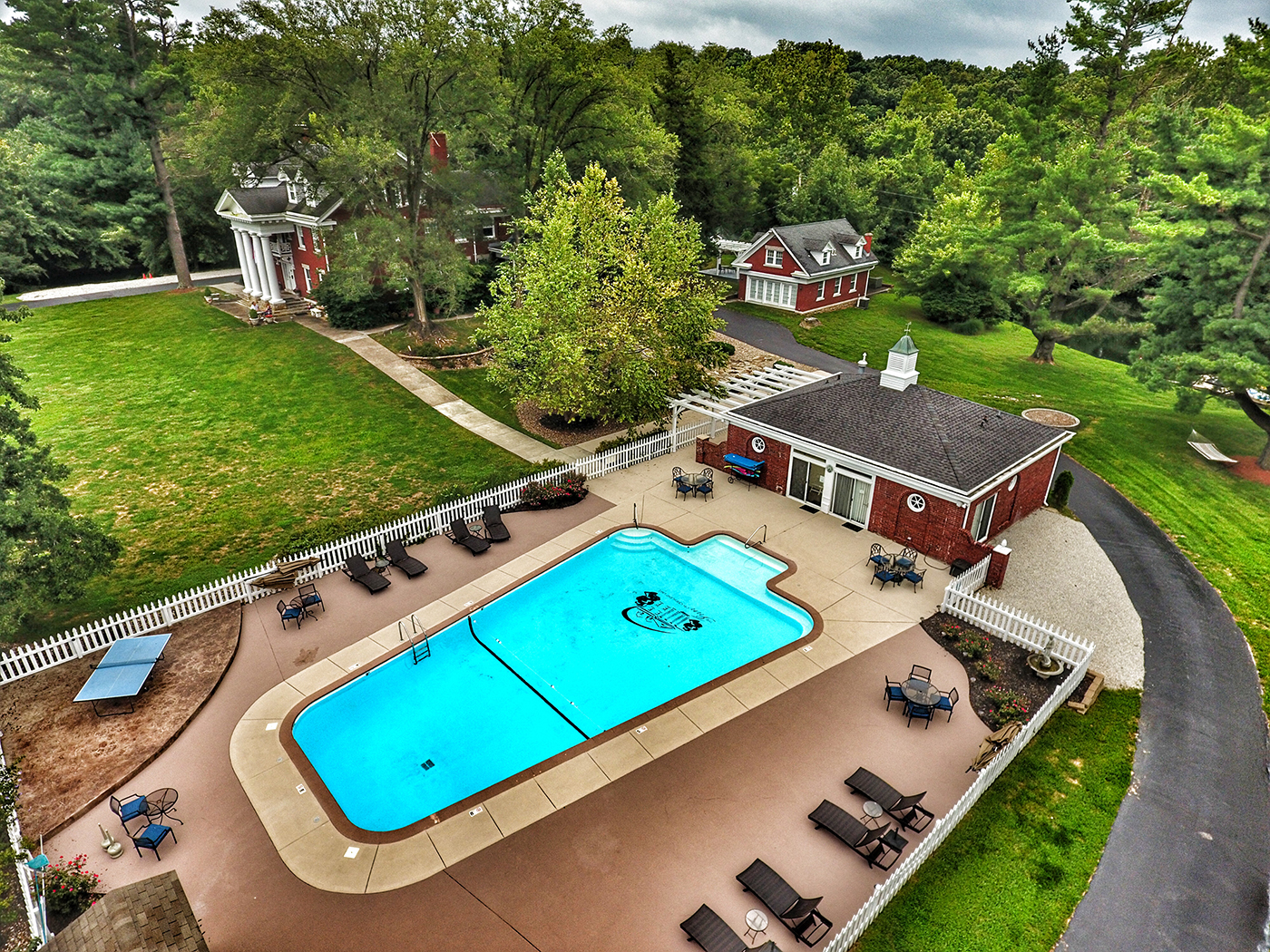 Accommodations
The Inn on Crescent Lake consists of ten uniquely decorated rooms and suites. All of the rooms have private baths, central a/c and heat with individual temperature control, radio/CD player, and flat-screen television with premium cable programming and DVD player. The third floor contains two large suites (Ballroom and Crescent Suite) that are both spacious and quiet. Each suite has a sitting area, a two-person whirlpool tub, and views of the peaceful country setting. The five rooms on the second floor (McCleary, Paris, Stripe, Emerald Rose, and Casbah) vary in both the size of the bed and the type of decor. Choose from period claw-footed tubs, whirlpool tubs, king or queen-sized beds and different views of the grounds. The first floor Garden room is handicapped-accessible and has a private entrance and private outdoor hot tub. There are two separate buildings besides the Main House - the Cottage and the Pool House. The Cottage is a private two-story house located by the lake. The large airy Tuscany Suite is tucked away in the Pool House with awesome views of the lake and pool. Each room at the Inn on Crescent Lake is private, spacious and decorated with your comfort in mind. All rooms come with a complete hot breakfast for two served in the solarium each morning and full use of all the Inn's amenities including the outdoor 7-person hot tub, walking path, paddle boats, fishing, and swimming in the pool.
Breakfast
The quiet of morning starts from the moment you wake from a peaceful night's sleep. Smell the coffee and sip your orange juice while your breakfast is being prepared in our kitchen. As the sun fills the Solarium, the day begins. A hearty breakfast might include sour cream waffles with glazed pineapple or banana syrup; baked frittatas with ham, asparagus and cheese; blueberry pancakes; omelettes; cinnamon French toast; or biscuits and sausage gravy. And of course, fresh fruit and bacon or sausage make your breakfast complete.
Dining
Ventana Cafe' 117 W. Broadway Excelsior Springs, MO 64024 Contact: Jill Rickart and Wendy Baldwin Phone: 816-630-8600 Fax: 816-630-6969 E-mail: VentanaCafe@aol.com Website: http://tasteofmissouri.com/ventana Wabash BBQ 646 S. Kansas City Ave. Excelsior Springs, MO 64024 Contact: Cheri McCullough Phone: 816-630-7700 Fax: 816-630-7722 E-mail: cheri@wabashbbq.com Website: http://wabashbbq.com
Local Attractions
Excelsior Springs offers an interesting and eclectic mix of shopping districts, history, eating establishments and cultural opportuities. Historically, Excelsior Springs meant excellence in tourism and health. Visitors flocked to Excelsior Springs health spas, clinics, hotels, restaurants and entertainment establishments. Promoted nation- and world-wide, Excelsior Springs became a premiere destination for health and relaxation. Although the mineral water industry declined in the 1960's, the mineral waters are still available inside the Hall of Waters, the mineral water baths can still be "taken" locally and much of the historic fabric of the original town can been seen in a revitalized downtown shopping district. Those who like to spend time on the golf course will find an outstanding course in Excelsior Springs. Tom Bendelow, world famous golf course architect, designed the course layout at the Excelsior Springs Golf Course. The golf course is a valuable historic asset to the community as well as a great course to play. Located 15 minutes from Excelsior Springs is Watkins Mill State Park, a 1000-acre park, that provides camping, picnicking, bicycling, swimming, boating and fishing, as well as walking and nature-watching opportunities. Watkins Woolen Mill State Historic Site is a 19th century woolen mill, complete with house and outbuildings, a church and schoolhouse, and a modern visitors' center. A Living History Program provides scheduled activities on weekends. Also 15 minutes from Excelsior Springs is the home of Frank and Jesse James, who were born on a farm three miles northeast of the city. The original house is still standing and is open to the public at the James Farm, operated by the Clay County. A new visitor center and museum are located on the property.
Of Special Interest
A day at the Inn on Crescent Lake brings many options. The lake has paddleboats, a rowboat, and a bass fishing boat for guest enjoyment. Bring a fishing pole and try your luck in catching a bass, sunnie, or catfish in our stocked ponds. Walk our trail hand-in-hand with your loved one or play badminton or croquet on the front lawn. As summertime takes hold, and the sun fills the property, the swimming pool is the perfect place to relax and read a book. In the winter, there is nothing like the warmth of the solarium to watch the snow fall on the expansive front lawn. Pamper yourself with a massage scheduled with a licensed masseuse in our massage room or hop into our year-round outdoor hot tub and watch the moon and stars above.